Code of Honor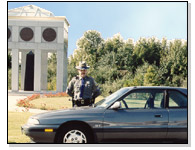 The traditions and splendid reputation of the Connecticut State Police are incorporated in the following code of honor, to which all members of the Department subscribe by word and deed:
"I am a Connecticut State Trooper - a soldier of the law. To me is entrusted the honor of the Department.
I will serve the State of Connecticut honestly and faithfully and, if need be, lay down my life as others have done rather than swerve from the path of duty.
I will be loyal to my superiors, obey the law and enforce the law without discrimination as to class, color, creed, or condition, and without fear or favor.
I will help those in danger or distress, and at all times conduct myself so as to uphold the honor of the Department."