President's Letter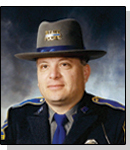 Dear Members, Friends, and Supporters,
When my staff and I became the officers and caretakers of the Alumni Association, which celebrated its 50th anniversary in 2022, even we had no concept of how successful we would be.
In the past 15 years we have expanded the membership, built a museum and a vintage C.S.P. vehicle garage. Approximately $600,000 was raised by us and great folks like you to refurbish the building which now houses our museum and most recently the construction of a 5,000 square foot garage. We have never accepted state funds; there are no paid volunteers.
Our buildings which house a vast collection of memorabilia and refurbished cars, motorcycles, and one truck are open and free to the public. We often host events, groups, and other police agencies in our media room, display rooms, hallways, and garage area.
But what is our mission statement? First off, we vigorously defend, protect and support the Connecticut State Police and its members both sworn and civilian. The Alumni Association provides CSP store memorabilia for sale and this drives our scholarship programs under the Educational Foundation. You can see their sale items and description of services within this website. We work closely with peer support programs, donate monies needed for extracurricular groups or functions that work in the name of us for any goal established by the CSP. Many of these charities revolve around our Veterans. We operate the museum which has been saving and preserving our rich and storied history; for example, recently discovered audio tapes of a serial killer's confession, an autograph given during a traffic stop from Amelia Earhart and tens of thousands of photographs. We operate vintage vehicles at parades, graduations, town and city functions, wakes and funerals. These vehicles bring great joy, relief, and put a good spin on a great department. Some of the regular functions we perform include Special Olympics, torch runs and the Dream Ride, Boston Marathon, food insecurity programs and education. We are present in every state police classroom to teach history and we attend every graduation. Simply put we cover our members, the people of our state and all other interested parties in whatever manner our corps of volunteers can handle.
Thank you for visiting our site and please visit our memorial page herein which celebrates our fallen comrades.
Sincerely,
Sergeant Jerry Longo (Ret.)
President - CSPAAA