Russell Bagshaw, Trooper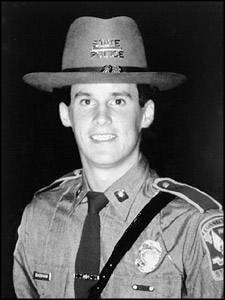 Died: Wednesday, June 5, 1991
At about 3:00 a.m. on June 5, 1991, Trooper Russell Bagshaw, age 28, of Columbia was executed in an ambush style shooting after he stopped at a North Windham gun shop to check the building. A four-year veteran assigned to Troop K, Trooper Bagshaw interrupted a burglary at the store and died of multiple gunshot wounds before he could use the radio or exit his cruiser. A firefighter driving by the gun shop minutes afterwards saw the cruiser with its strobe lights on and stopped at the pay phone to call the store owner.
The store owner joined the fireman at the gun shop and as they both approached the cruiser, they found Trooper Bagshaw slumped over the wheel. The firefighter then used Trooper Bagshaw's portable radio and began calling: "Officer down! Officer Down!" Several minutes later, other troopers arrived.
Less than 48 hours after the shooting on June 7, 1991, Duane and Terry Johnson were arrested for the most cold-blooded violence ever leveled at a Connecticut State Trooper.